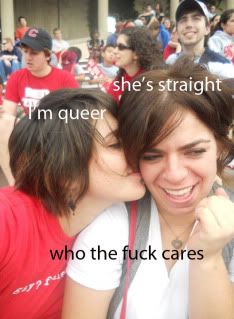 She's Straight. I'm Queer. Who the fuck cares. 
The attached photo is of me and my best friend. A few years ago, we started referring to each other as "platonic girlfriends." Somewhere between the dates, cuddling, constant affirmations of adoration, and the assurance that she will always be there to get me out of whatever sadness cave into which I've dragged my poor-ass self, I realized that while our preferences may not quite add up to playing doubles in the tennis match of sexytimes, she's pretty much the only romantic partner I need. In fact, she's even flying out to San Francisco from Cape Town so we can spend Valentine's Day together.

We're Occupying Valentine's Day. Screw your preconceptions.